KUALA LUMPUR, Feb 17, 2023 – (ACN Newswire via SEAPRWire.com) – Kincentric, a Spencer Stuart Company, announces today their Best Employers for 2022. As part of its leading employer program, Kincentric measures and recognizes extraordinary employers who have demonstrated the keen ability to listen and address their employee's evolving needs to drive higher talent retention and performance. Key factors that differentiated these Best Employers especially included their marked willingness and agility to encourage diverse ideas and implement them with speed, to ultimately enhance employee experience.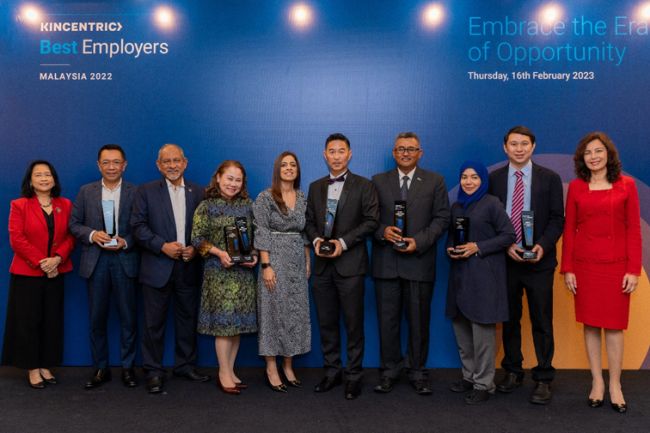 According to Ridhima Khanduja, Market Leader for Kincentric Malaysia, the country's Best Employers for 2022 outperformed in four critical performance pillars that highlighted their strong purpose-driven culture and execution capability. This, in turn, has enabled them to be responsive and agile, maintain high levels of employee engagement, and foster a culture where employees stay and become brand advocates.
The Best Employers in Malaysia have excelled in four fundamental performance pillars, which included employee engagement (a 14-point increase to 83%), agility (a 12-point increase to 79%), engaging leadership (a 9-point increase to 77%), and talent focus (a 12-point increase to 77%), when compared to their average peers.
These outstanding performance indicators were evident in the following five (5) organizations, which were recognized as Kincentric Malaysia's Best Employers:
a) Lotuss Stores (Malaysia) Sdn Bhd
b) McDonald's Malaysia
c) PLUS Malaysia Berhad
d) Sunway Theme Parks; and
e) Tenaga Nasional Berhad
Ridhima said, "The business landscape and priorities have fundamentally shifted to become today's Brittle-Anxious-Non-Linear-Incomprehensible (BANI) world, creating a unique set of challenges for employers and markets alike. Organizations, including our Best Employer companies, are under pressure to meet employees' shifting expectations, and are going above and beyond to address these challenges head-on. Leading companies understand the need to adapt and redefine their talent strategy by building resilience, awareness and empathy, while leveraging on data to survive and thrive."
"Malaysia's employee engagement levels in H1 2022 have dipped below pre-COVID levels, from 70% in 2019 to 67%. Employee's intent to stay in the organization has also experienced a similar pattern, dropping five (5) points from 64% in 2019 to 59% in the same period. The lower scores indicate that many organizations are trying something new – testing, learning and refining – while others are holding back in the hope that things will go back to 'normal'. It is time to embrace change, and we are encouraged by the progress made by Malaysian employers," Ridhima added.
Sunway Theme Parks had also received recognition as the 'Best of the Best' for its outstanding demonstration of organizational agility and manager capability in support of employee wellbeing and development. Despite existing market challenges that impacted the theme park industry, the organization emphasized its commitment to its people through various strategic measures such as their 'Service Culture Program' and cross-departmental trainings, which deepened Sunway's corporate culture, and provided resilience and agility to respond to fluid business environments.
The 'Best of the Best' recognition was also awarded for Sunway Theme Parks' ability to engage with employees across levels and age groups in a consistent manner – a challenging feat that most organizations struggle with. The concerted efforts to engage its employees by creating a culture of recognition and in providing clarity and opportunities for career growth had allowed Sunway Theme Parks to develop a multigenerational employee experience, which meets the unique expectations of its millennial employees.
Calvin Ho, Executive Director of Sunway Theme Parks said, "At Sunway Theme Parks, we believe that it is the people that build the business. Only when our leaders reflect upon their strengths and weaknesses, then we are able to understand our colleagues and improve upon the dynamics of a team. By doing so, our leaders become more adaptable, are able to exercise empathy and can better impact our business. The sharpest of blades are often forged in the strongest of fires."
McDonald's Malaysia and Tenaga Nasional Berhad (TNB) were also awarded with Special Recognitions for their outstanding commitments to Building Purposeful Talent and Transforming Culture, respectively. Over the years, and especially in 2022, both organizations had demonstrated a steadfast dedication to developing and strengthening their internal structures to support talent development, offer meaningful career direction and pathways, and create a working environment which fostered growth and success.
"Congratulations to all the Kincentric Malaysia's Best Employers for their exceptional achievements in creating an engaging culture that prioritizes employees' voices, value, and performance. Their dedication to promoting this culture through courageous organizational changes is truly admirable," Ridhima concluded.
About Kincentric
Kincentric, a Spencer Stuart Company, helps organizations unlock the power of people and teams to ignite change and drive better business results. With decades of experience and specialist expertise in areas such as culture, employee engagement, leadership assessment and development, HR and talent advisory, and diversity, equity and inclusion, Kincentric uses data-driven insights to architect solutions that add value, enhance agility and increase organizational effectiveness. For more information, visit kincentric.com.
Image:
Chong Chye Neo, judge for Kincentric Malaysia's 2022 Best Employer program; Tuan Haji Wahizan bin Abd Rahman, Chief People Officer of Tenaga Nasional Berhad; Dato' Wahab Abu Bakar, judge for Kincentric Malaysia's 2022 Best Employer program, Melanie Lim, Senior Director – Restaurant Solutions Group, Training, Learning & Development of McDonald's Malaysia; Ridhima Khanduja, Market Leader for Kincentric Malaysia; Calvin Ho, Executive Director of Sunway Theme Parks; Datuk Zakaria Ahmad Zabidi, Chief Operating Officer of PLUS Malaysia Berhad; Puan Yasmin Mohd Ramzi, Head of People Strategy & Organizational Effectiveness, Tenaga Nasional Berhad; Alvin Low, Head of People of Lotuss Stores (Malaysia) Sdn Bhd; Dato' Hamidah Naziadin, judge for Kincentric Malaysia's 2022 Best Employer program. [L-R] ( https://acnnewswire.com/topimg/Low_Kincentric20230217.jpg )
Copyright 2023 ACN Newswire. All rights reserved. (via SEAPRWire)