HONG KONG, Feb 16, 2023 – (ACN Newswire via SEAPRWire.com) – The Hong Kong Special Administrative Region Government (HKSAR) has removed restrictions on travel between Hong Kong and Mainland China and lifted vaccination requirements for overseas visitors to the city. The moves will boost global trade between Hong Kong, Mainland China and the world at large. The Hong Kong Trade Development Council (HKTDC) has been actively promoting the territory's advantages through different channels and exhibitions. The 39th Hong Kong International Jewellery Show and 9th HKTDC Hong Kong International Diamond, Gem & Pearl Show, organised by the HKTDC, will be staged at the Hong Kong Convention and Exhibition Centre (HKCEC) from 1-5 March 2023, as a launch pad for a new round of trade fairs to help Hong Kong companies capture global business opportunities.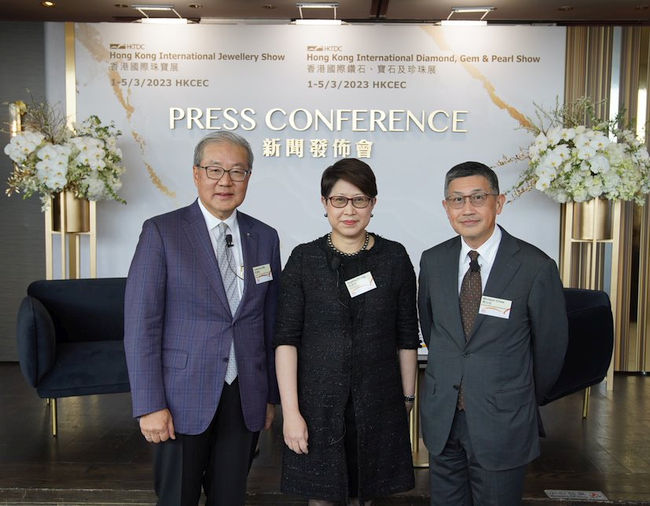 Sophia Chong (centre), HKTDC Deputy Executive Director, Lawrence Ma (L), Chairman, HKTDC Hong Kong International Jewellery Show and HKTDC Hong Kong International Diamond, Gem & Pearl Show Fair Organising Committee, and Winston Chow, Chairman, HKTDC Jewellery Advisory Committee, attended today's (16 February) press conference to introduce the twin jewellery shows.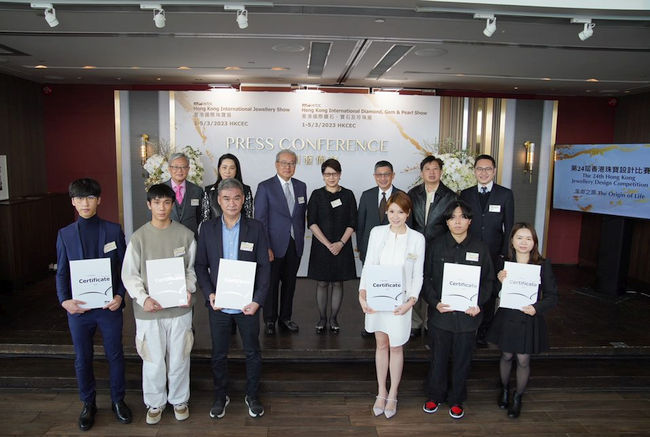 Winners and guests at today's prize presentation ceremony for the 24th Hong Kong Jewellery Design Competition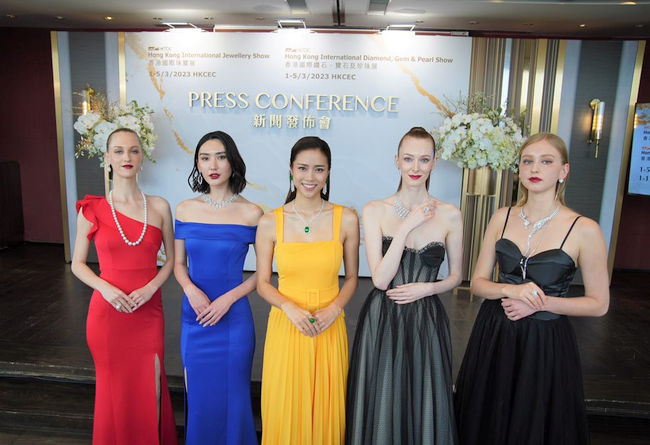 Artist Tiffany Lau and other models present stunning jewellery pieces.
Sophia Chong, Deputy Executive Director of the HKTDC, said: "We are happy to see positive feedback from international and mainland business communities on the relaxation of the pandemic prevention policies in Hong Kong. We observed a gradual return of overseas and mainland participants in exhibitions and conference held in January. This year, the twin jewellery shows are attracting more than 2,300 exhibitors from 34 countries and regions, with half of them from overseas. The fairs will draw 100 buying missions with more than 10,000 non-local buyers from 70 countries and regions, showing significant increase in both non-local exhibitors and buyers compared to last year. We believe the exhibition industry and international trade will benefit directly from full relaxation of quarantine measures later this year."
The HKTDC will focus on two key aspects – markets and sectors – to promote Hong Kong as a business hub and help trade regain momentum. The HKTDC will focus on promoting Hong Kong as the preeminent two-way bridge between the Guangdong-Hong Kong-Macao Greater Bay Area (GBA) and Association of Southeast Asian Nations (ASEAN); between Asia and the world. Apart from GBA, Regional Comprehensive Economic Partnership (RCEP) countries, traditional and emerging markets remain our regional focus for promotion. Apart from facilitating trade and exports of various industry sectors, the HKTDC will also reinforce Hong Kong's leading role in innovation & technology, health & wellness and sustainability.
Hong Kong fine jewellery exports rally
After the pandemic brought a 20% decline in 2020, Hong Kong's fine jewellery exports benefited significantly from relaxed quarantine measures. The value of Hong Kong's fine jewellery exports last year rose 18% to HK$71.4 billion (US$9.1 billion), as compared to 2019. While there was a 40% growth in Hong Kong's jewellery sales to ASEAN markets, the exports to the United Arab Emirates, Italy, Australia and Taiwan also showed an encouraging increase.
Group pavilions include Mainland China, Japan, Korea and Germany
The twin shows will feature 20 group pavilions including those from Mainland China, Taiwan, Japan, Korea, Singapore, Sri Lanka, Thailand, India, Turkiye, Israel, Germany, Italy, Belgium, Brazil, Colombia, the United States and others. A number of jewellery associations will return to the fairs and show support, such as the Asia Pacific Creator Association, International Coloured Gems Association, Tanzanite Foundation, and the Hong Kong Jewellery & Jade Manufacturers Association which organises T-GOLD+METS pavilion with Italian Exhibition Group and many more. The overwhelming response proves Hong Kong is an attractive platform for international companies.
Highlighted zones present exquisite jewellery
The Hong Kong International Jewellery Show will feature 17 zones. Amongst all, the Hall of Fame will gather 18 jewellery brands, including Hong Kong's ASIAN STAR, Spain's CARRERA Y CARRERA, Italy's Oriental Jewels and Thailand's Key Gems; Hall of Extraordinary will showcase masterpieces from about 60 exhibitors, such as Dehres, United Jewelry, On Tung Company, and Continental Diamond from Hong Kong, Switzerland's Thomas Faerber SA, DIACRAFT Inc from the US, Germany's Heinz Mayer, and Italy's Crivelli s.r.l.; Designer Galleria will feature precious pieces from 25 jewellery designers from across the world. Participating designer brands include Green G, Starlite Jewellery and CULTURED from Hong Kong, Korea's Gina Fine Jewelry Creator, Taiwan's Dian-Ta Design Studio and more.
The Hong Kong International Diamond, Gem & Pearl Show consists of three product zones, including Hall of Fine Diamond, Treasures of Nature and Treasures of Ocean showcasing premium quality diamonds, gemstones and pearls.
Over 20 inspiring events help businesses stay up-to-date
The twin jewellery shows will organise over 20 seminars and events covering various topics such as Bling Up Your Business with Blockchain & NFT, Hong Kong Jewellery Industry Shines over the World, THE JEWELLERY TRENDBOOK 2024+ 'From Consumer Culture to New Market Opportunities', Jewellery Enamelling: The Techniques, Introduction of 'Dealers in Precious Metals and Stones' Registration Regime, Ammolite – A 71 Million-Year Natural Treasure only from Alberta, Canada, Achieving SDG of Jewellery Testing and Certification Industry through Innovative Integration of Industry, Education, Research and Application. These seminars and events will allow industry players to stay up-to-date and explore further business opportunities. There will also be various networking events and jewellery parades during the shows. In addition, the winning pieces of the 24th Hong Kong Jewellery Design Competition will be displayed during the fair period.
The shows will run under the EXHIBITION+ physical-online hybrid model, which includes HKTDC-organised physical fairs, the smart business-matching platform Click2Match, online-to-offline seminars under the Intelligence Hub and the hktdc.com sourcing platform. This extends face-to-face interactions from physical exhibitions to an online, smart business-matching platform to help enterprises proactively connect with business partners. The Click2Match platform for the two fairs will be accessible from 1-12 March 2023, letting exhibitors and buyers continue conducting business discussions online after the physical shows.
Websites:
– Hong Kong International Jewellery Show: https://www.hktdc.com/event/hkjewellery/en
– Hong Kong International Diamond, Gem & Pearl Show: https://www.hktdc.com/event/hkdgp/en
– Interesting Products: https://bit.ly/3K8Xwgt
– Activity List: https://www.hktdc.com/event/hkjewellery/en/intelligence-hub
– HKTDC Media Room: https://mediaroom.hktdc.com/en
– Photo download: https://bit.ly/3lHyKtw
About HKTDC
The Hong Kong Trade Development Council (HKTDC) is a statutory body established in 1966 to promote, assist and develop Hong Kong's trade. With 50 offices globally, including 13 in Mainland China, the HKTDC promotes Hong Kong as a two-way global investment and business hub. The HKTDC organises international exhibitions, conferences and business missions to create business opportunities for companies, particularly small and medium-sized enterprises (SMEs), in the mainland and international markets. The HKTDC also provides up-to-date market insights and product information via research reports and digital news channels. For more information, please visit: www.hktdc.com/aboutus. Follow us on Twitter @hktdc and LinkedIn
Media enquiries
Please contact the HKTDC's Communications & Public Affairs Department:
Janet Chan, Tel: +852 2584 4369, Email: janet.ch.chan@hktdc.org
Frankie Leung, Tel: +852 2584 4298, Email: frankie.cy.leung@hktdc.org
Copyright 2023 ACN Newswire. All rights reserved. (via SEAPRWire)